Most Thursdays, I leave work too late to enjoy the PQ Freshfarm Market. But yesterday, when I exited the Metro, I was overcome by an amazing smell. My nose became a heat seeking missile as I searched for the origin of the amazing aroma.
In fact, I was so captivated that I was nearly hit by a Land Rover entering the Lansburgh garage.
But when I found my way to Ferial Welsh of The Mushroom Stand and her heavenly Oyster Mushroom Fritters (lightly battered and fried mushrooms with feta cheese and hot sauce), the taste was worth the near death experience. My only disappointment being that I didn't buy two orders of mushrooms.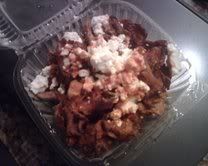 Welsh was at the market courtesy of Freshfarm's Chef at Market program. Every week, a local restaurant/chef/farmer gives a cooking demonstration and then either serves up free samples or items for sale.
In addition to the fritters, Welsh was serving up portobello mushroom sandwiches and mushroom salads. She also had some yummy looking fresh mushrooms for sale. But judging by the line, the fritters were the favorite.
Next week, the Chef at Market will host Whole Foods and on July 24, Oyamel will delight market goers with their squash blossom festival.
I guess I need to start making plans to leave work early for the next few Thursdays.
If you enjoyed this post, please consider leaving a comment or subscribing to the feed and get future articles delivered to your feed reader.